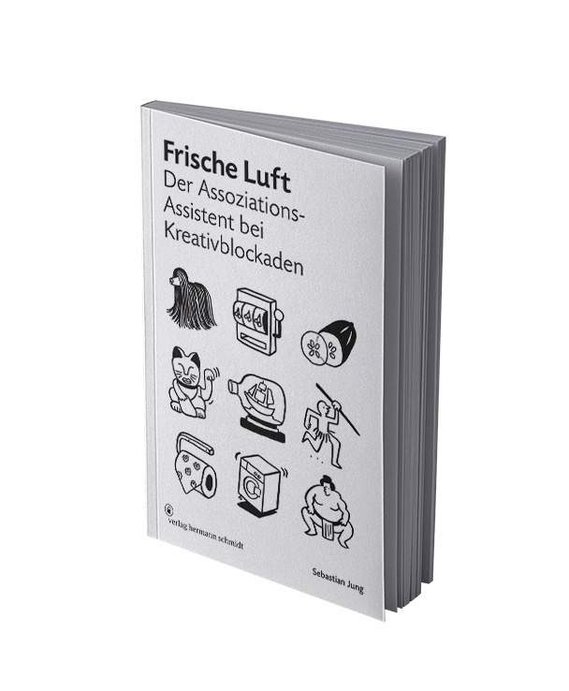 FRISCHE LUFT (Verlag Hermann Schmidt)
Order here
ISBN: 978-3-87439-918-0
Format 12 x 18,6 cm
224 Seiten / Pages
25,00 €


Inhalt
In Ihrem Kopf sprudelt kreative Hochleistungs-Energie, immer bereit, zum Ideen-Sprint aufzubrechen. Davon leben Sie. Vielleicht kennen Sie aber auch Momente kreativer Blockaden, diesen Schrecken, wenn sich gar nichts tut? Sie kennen die inspirierende Wirkung unspezifischer Anregungen und Assoziationen, die Macht des Zufalls. »Geh mal an die frische Luft« heißt es deshalb in diesen Momenten. Und viele Goldideen haben ihren Ursprung genau da draußen.
Sebastian Jung geht für Sie raus und bringt frische Luft zu Ihnen, wo immer Sie gerade sind. Hält alles fest, was ihm begegnet. Trägt Dinge zusammen, die nicht zusammenpassen. Aus Dissonanz wird Kreativenergie. Assoziationsfeuerwerk im Kopf.
Und die Kreativblockade löst sich. Versprochen!


Content

You're always ready for new ideas, creative high-performance energy bubbles up in your head that can go on and on. That's what you live for. But maybe you also know moments of creative blockades, that horror when nothing happens at all? You know the inspiring effect of non-specific suggestions and associations, the power of chance. "Take a breath of fresh air" is therefore what we say in these moments. Many good ideas have their origin there: Outside. In the subway, on the flea market or even in the shower but not behind your desk.
Sebastian Jung goes out for you and brings fresh air to you wherever you are. Holds on to everything he encounters. Brings together things that don't fit together. Dissonance becomes creative energy. New association will come to you easily.
And the creative block dissolves. Promised!